At CMB we are experts in industrial packaging for all types of furniture
At CMB we are experts in manufacturing packaging machines for furniture and wood products. We have been dedicated to the research and development of specialized machines for this purpose for many years, both for working in cold and heat, with sustainable materials and with excellent properties, such as polyethylene stretch film, bubble or shrink film.
In this post we would like to show you all the benefits, strengths and features of our ERB wrapper. A perfect machine for all those packaging lines where a high degree of protection and, at the same time, a good visualization of the final product are sought.
This furniture packaging machine uses shrink polyethylene film that, when in contact with heat, contracts and produces a fastening effect on the product to be packed, isolating it from dust, water and other external aggressions. This provides an extra degree of safety and protection.
How does this furniture packaging machine work?
The product is placed on the input conveyor table, being able to start the process automatically or with a special start pedal. After that, the piece of furniture passes through the film sheets that are welded together at their ends, and the welding head descends until the top film sheet is welded to the bottom, leaving the package closed in front and behind, but open at the sides. It is when entering the tunnel that the film shrinks, adjusting to the product it wraps, being fully packaged and obtaining the final result.
Furniture packaging machines: if you want more information, just contact us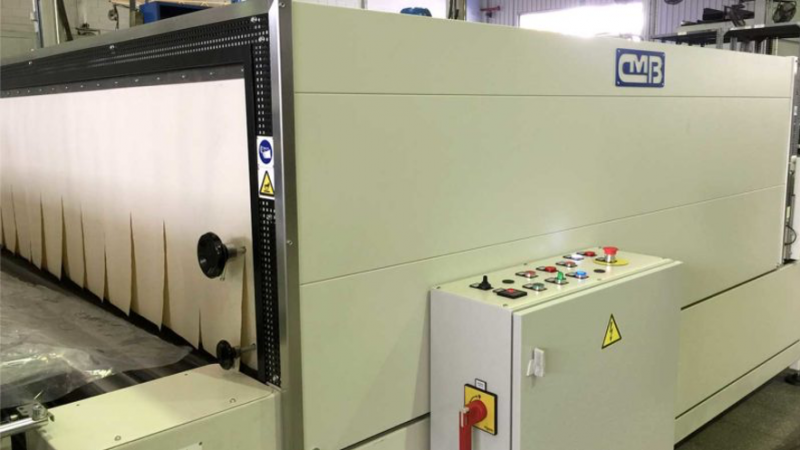 The ERB wrapping machine has been specially designed for the optimization of your furniture packaging line. It guarantees high levels of productivity and efficiency, an excellent final product visualization, together with an exceptional degree of protection. If you want to receive detailed information about our furniture packaging machines, you only have to contact us by phone at (+34) 93 636 14 16; You can also send an email to the address [email protected]; or fill out the form that you will find on this website. Bet on CMB and your packaging plant will take a leap into the future!