When learning how to pack wooden furniture, it is important to know that the combination of bubble and stretch film provides the best possible protection. In addition, through reduced energy costs, this strategy allows you to invest in more protective material, without increasing the final costs.
The COOLPACK series packaging system is ideal when looking for strategies on how to package wooden furniture, home accessories, doors or windows. These types of products require special protection that can only be provided by this system, which combines recyclable polyethylene film of the bubble type with recyclable polyethylene film of the stretch type. 
These two materials combined together, apart from protection, provide a double insulation that makes it an even more effective packaging method. On the other hand, it is important to highlight that the bubble achieves a cushioning effect thanks to its air capsules, while the stretch film provides the most effective fastening effect that currently exists without damaging the product.
How to pack wooden furniture with CMB COOLPACK systems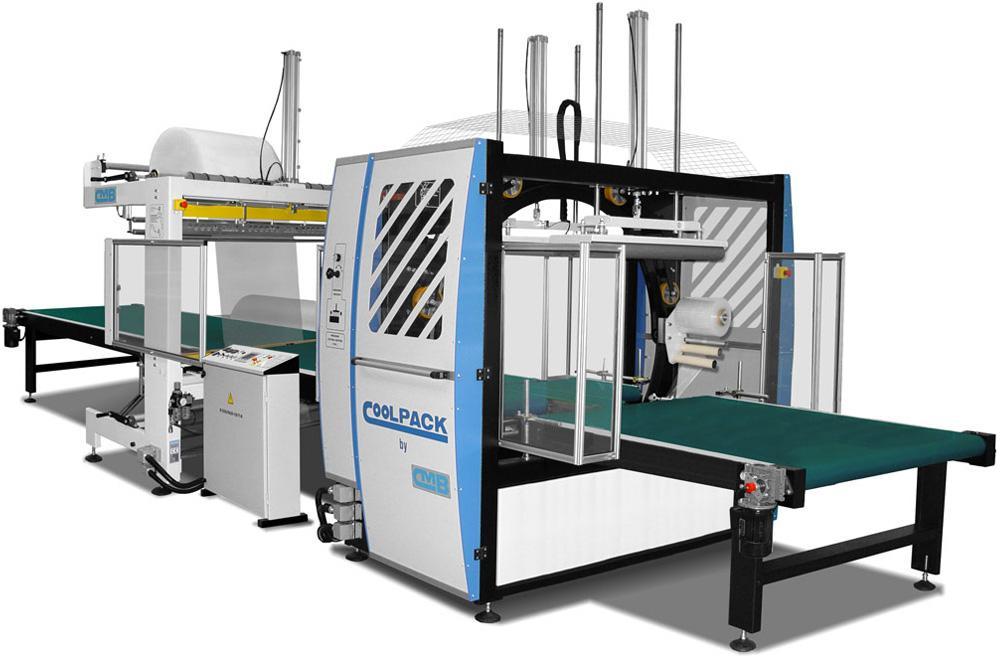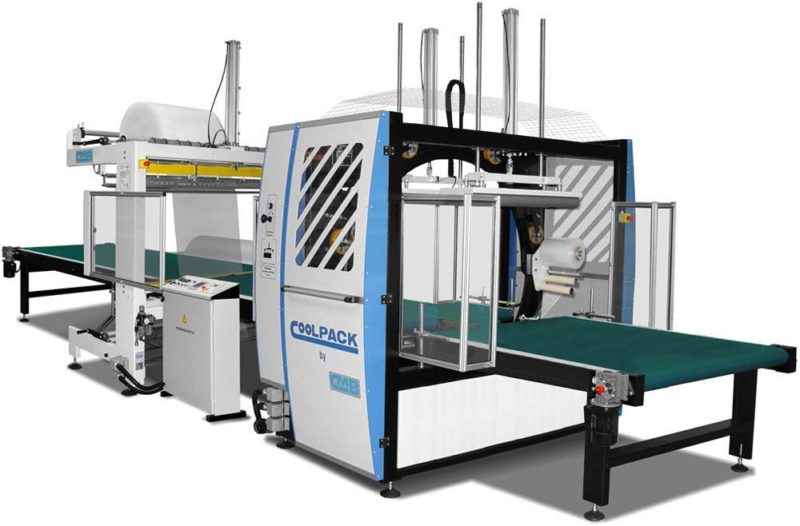 The COOLPACK furniture packaging machine consists of a product infeed table, a sealing head, an intermediate table, a slewing ring with an optional integral transport system (Coolpack-TI) and an outfeed table. 
The packaging process consists of two very distinct stages. In the first stage, an upper and lower layer of recyclable polyethylene bubble-type film or simply polyethylene film is applied to the product to be packaged, depending on the protection needs required, with the initial and final ends joined and closed, and the two sides open and with the product to be packaged inside. 
In the second phase, the product is wrapped using the stretch film wrapping system, so that it is closed, secured and perfectly protected. In this way, the best protection is obtained for all types of products.
What benefits does the wooden furniture packaging machine bring to the industrial production chain?
Our industrial packaging machinery
At CMB we have automated packaging systems for both cold and hot work. So, depending on the packaging needs of each industry, our technicians will find the perfect machine to optimise your plant.
Today we are immersed in the implementation of what is known as Industry 4.0; this is here to stay and brings with it a long list of advantages for companies and for industry as a whole in order to achieve the highest possible levels of efficiency in our companies. 
We have a high degree of specialisation within the wood sector and the packaging of medium and large sized furniture. 
In essence, by automating your packaging processes, you will produce more, be more profitable without so many operating and personnel costs, and in much less time. You will scrupulously meet delivery deadlines, and you will be able to better plan and coordinate the entire packaging line. In the short term, you will experience a substantial increase in both the competitiveness and profitability of your line and business.
Ask us about our automated packaging machinery
If you would like to receive personalised advice, ask us a question or request a quotation, simply contact CMB's sales department by calling (+34) 93 636 14 16 or sending an e-mail to [email protected]. You can also fill in our contact form, and we will contact you as soon as possible.