PACKAGING MACHINERY
CMB: state-of-the-art
packaging machinery
with advanced features
At CMB you will find modern and advanced packaging machinery. Depending on the material to be packed and protected or the specific needs of your industrial line, we will advise you on a specific packaging machinery and system. Both the type of material and the system to be used are taken into account. Keep in mind that choosing a good packaging machinery manufacturer prevents damage to the product and maintains its quality from the beginning of the distribution process to the final delivery of the product to the customer, as well as helping you to make the process profitable. It is a safe and necessary investment for any company that needs to pack its products industrially.
CMB has two lines of packaging machinery:
ERL
Orbital wrapping machine with stretch film.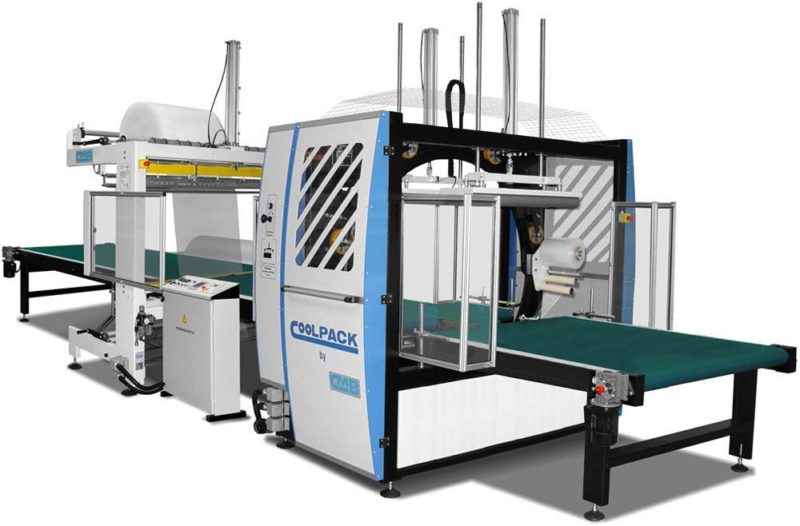 COOLPACK
Horizontal wrapping machine combining bubble film and stretch film.
SUPER P
Super protection with the application of corrugated cardboard sheets.
ERB
Shrink wrapping machine.
COMBO
Shrink wrapping machine with an automatic system for choosing the width of the film.
ERS
Wrapping machine with overlapped shrink film for high quality finishes.
At CMB we are true specialists in the design, manufacture and sales of automatic installations and machinery for the packaging of products of medium and large dimensions, with an extensive experience in sectors such as wood and furniture, and with a growing presence within sectors such as aluminum, PVC and many others. Currently, the export share of our packaging machinery reaches 90% of production. We have sent our equipment to countries anywhere in the world, even remote places. Our main markets are Europe, the USA, Canada, Russia, and North Africa, although we can send our equipment where necessary.
Packaging machinery has been modified and adapted to new technologies and production process techniques, becoming a benchmark in the sector.
It is important to make clear that finding an advanced and modern packaging machinery manufacturer helps to improve and increase the entire production process of your company, adding a plus of professionalism, quality and providing great value for your brand. Think of packaging as the first thing customers will see when they receive or buy your products, and it must be perfect and of the highest quality.
Features of our
packaging machinery
The materials and plastics used by our packaging machinery are recyclable and are manufactured following the highest environmental and quality standards. At the same time, they are a serious alternative for any company that wants to reduce the use of cardboard, a factor that, on the one hand, reduces the costs of the entire process, and on the other, contributes directly to the fight against abusive logging of trees around the planet.
If you need more detailed information or want us to advise you directly, just contact our sales department. We know that choosing the right packaging machinery may not be an easy task. Part of our job is to help you make the best decision and advise you throughout the purchasing process. What exactly do you need?
This way, CMB is advantageous with the saving in human cost, since, with the packaging machinery and the new technologies, the manipulation by the human team of the company is reduced and, also, companies reduce cardboard storage.
CMB is selling packaging machinery in a large number of industrial sectors, wood and aluminum being the main ones, but with an active presence in many others in which it also has an excellent reputation always backed by its extensive experience.