CMB: Specialists in big and medium-size industrial packaging
At CMB they are experts on all kind of packaging for the industry. We are talking about a company that was founded in 1986 and with more than 30 years of experience, that has allowed them to consolidate their leadership in the market both in the national and international arena. They work for different industries such as wood, aluminum, automobile etc., among others.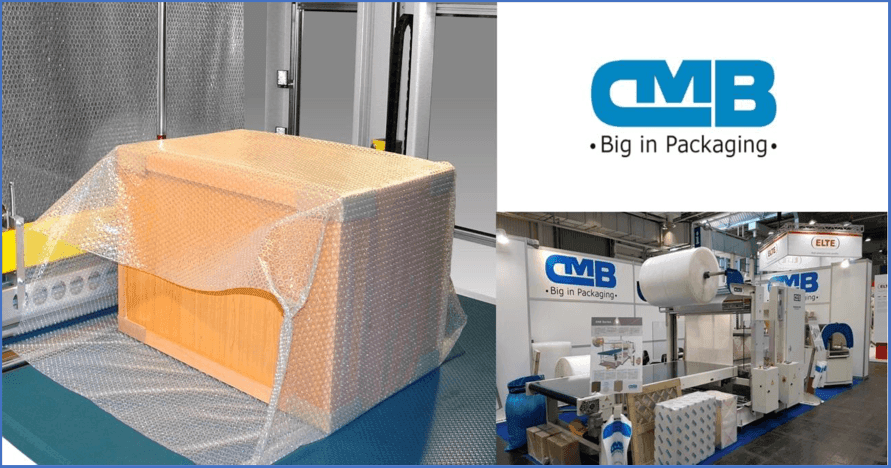 Their policy has always been to bet on innovation and the improvement of the machines they manufacture, always with an export mentality. Their aim and strategy over the last years has been to increase their presence in the international market through well-evaluated commercial actions and assisting the most important international trade fairs. Today we will present the cool packaging solutions that CMB manufactures and that are at your disposal.
Kinds of cool packaging that CMB manufactures and works with. Which one should you choose?
Cool packaging systems: Coolpack, ERL or Super P? 
Bubble & Stretch Film 
Coolpack is a cool packaging system that combines two types of materials: bubble film and stretch film. It allows to increase the level of protection while it also reduces the energy consumption. It is a perfect solution for pieces of furniture and other products that need a special protection. This combination offers the cushioning of the bubble and the strong fastening of the stretch film.
ERL. Rotating crown packaging machine 
This is a quick and effective packaging machine that will help you obtain high profitability. ERL Series work with stretch film, so they offer a high fastening grade. ERL doesn't have an important energy consumption and is perfect to wrap all kind of doors, windows, blinds or tubes.
Super P. Super Protection without limits 
As its own name indicates, with this module you can obtain a high protection packaging for your products. It improves the performance of CMB packaging machinery as it offers the possibility to combine layers of different types of packaging material, that couldn't be used until that moment, such as cardboard. The variety of packaging options represents a simple but effective system. The result is an exceptional protection for your products.
Do you want our advice to choose which kind of packaging is the one you need?
If you still haven't decided the appropriate kind of packaging, you can contact us through our website. Our technical staff will analyze your case to provide you with the best solution. This is our job!