Which packing machine is the best choice for packing wooden profiles?
If you are looking for a packing machine that allows you to protect your wooden profiles, you are in the right place. In CMB, we have different models of machines that can help you pack these wooden products so that they can be stored or transported in optimal conditions.
The packaging machinery has been modified and adapted to the new technologies and techniques of production processes, becoming a reference within the sector, especially that of exports and imports. At CMB we are experts in the manufacture of packaging machinery and that is why we offer the most advanced and efficient packaging machines on the market today, not only for the automated packaging of doors, but for multiple applications such as profiles.
Industrial packaging of wood profiles
When we consider the task of finding the best packaging for our products, we want it not only to adapt to the conditions of protection, care and conservation, but also to be within our budget. And, in all this industrial process, many factors play that are directly related to the quality and efficiency of the service we require to transport and store our products.
When we discuss industrial packaging we refer to everything necessary in the process to protect, preserve and preserve the products, temporarily, to be transported and stored.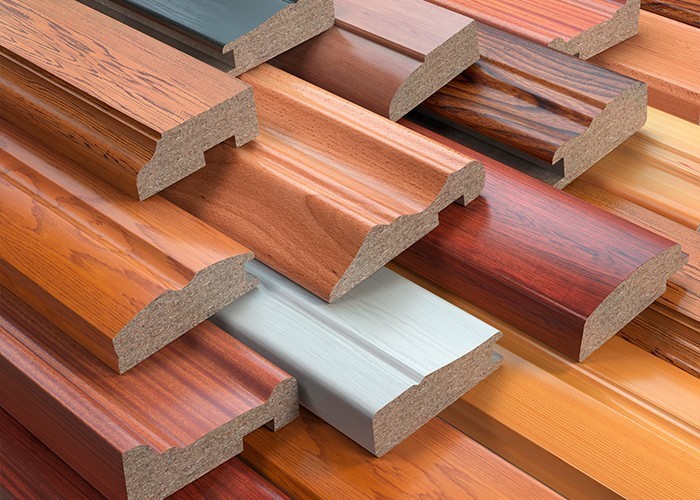 What should a wood profile packing machine consider?
The principles we apply to our wood profile packing machines are perfectly applicable to profiles of other materials such as aluminium or plastic.
Depending on the type and size of the profile, from CMB, we will recommend one type of machine or another. There are packing machines with which sections of diameters from 6 to 300 cm with lengths from one meter can be packed.
In terms of operation, our machines can be fed automatically or manually. In the latter case, a person will have to place the profiles on the machine and, once packed, will have to download them manually or automatically, since CMB manufactures machinery for both options. In the case of wooden profiles, a layer of shrink film or stretch film is enough to tie and protect them. 
CMB Wood Profile Packing Machines
Industrial and large production packing machine, with stretch film
The ERL Express is a complete and fully equipped equipment for packing wooden profiles.  It is the only machine that still uses a toothed crown and ball bearing. Just like in the aeronautical industry, to move the hoop. For that reason, it is completely reliable and can be used for periods of 24 hours uninterruptedly. The largest model of this maxim is available in format up to 300 cm of rotating crown.
Some of our ERL-30s have already accounted for millions of packages packed without any problem, thanks to the type of rotating crown mentioned above.
High production industrial packing machine and excellent package finishes packed with overlapping heat shrink film
When it comes to packing significant amounts of wood profiles that need excellent aesthetic presentation, it becomes necessary to use high production machines. One option is the ERS model, which stands out for its high speed, the quality of finish of the packaged package, being also extremely reliable. 
Get your ideal packing machine in CMB
If you are interested in any of our models of wood profile packing machines, please contact us.  We will take care of analysing your specific needs to offer you the machine that best suits your particular casuistry so that you obtain an exceptional result. You can call us at (+34) 93 636 14 16 or write to us at [email protected], as you prefer.