At CMB, we are experts in film packaging machines. That's why we design the most innovative models, through the development of new technologies and materials.
Because we know that film packaging machines play a key role in optimizing an industrial production line, we take care of every detail of the machinery we manufacture.
Hot and cold film packaging machines
At CMB, we design machines for hot and cold film packaging. In this way, we have a wide range of models of both types, which is ideal when choosing the model that best suits the product to be packaged.
Cold film packaging: ERL, COOLPACK and SUPER P
ERL: rotary stretch wrapping machine
The great advantage of the ERL film wrapping machine is its great versatility, as it allows a wide variety of products to be wrapped with stretch film. Another of its characteristics, which makes the ERL a great option, is the reduced cost of the material applied.
COOLPACK: cold packer combining bubble type film and stretch film
The COOLPACK is a model that provides a high level of protection to products, such as furniture, home accessories, blinds, doors and windows, by combining bubble film with stretch film. In addition, due to its advanced technology, this machine has a low-energy consumption.
SUPER P: super protection with application of corrugated cardboard sheets
The SUPER P cold film packaging machine model is designed to combine a wide variety of packaging materials in overlapping layers to achieve the highest possible degree of protection. In addition, it allows two types of packaging: one that completely wraps the product and one that only covers the top side.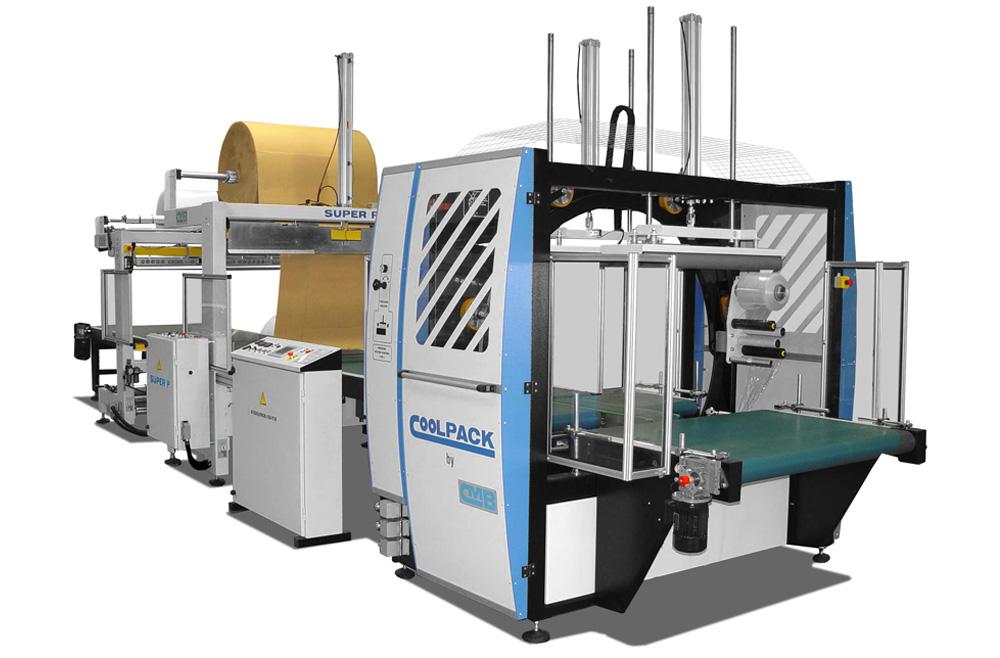 Three different types of hot-film packaging: ERB, COMBO or ERS
CMB engineers have developed three different types of shrink wrapping machines: the ERB shrink wrapper, designed to offer good quality packaging at a very competitive cost; the COMBO system, suitable for wrapping products of different sizes on the same packaging line; or the overlap shrink wrapper, designed for high production rates, reliable, with a high-quality finish on the packaged packs and requiring little maintenance.
ERB: a product's finish is a reflection of its quality
The strength of the ERB model is that it offers an excellent visibility of the packaged product, thanks to the heat-shrinkable film. At the same time, it will guarantee you a high output at very competitive and reasonable costs.
The shrink wrapper is designed for a wide range of products from different industrial sectors. For example, furniture, mattresses, all kinds of textile products and automotive accessories, among many others.
It offers the possibility of providing the final product with customized finishes, in different colours and with the company's logo printed on it. It is a very robust and reliable machine, which does not require major maintenance or set-up tasks.
COMBO: can do it all, without interruption
The COMBO packaging systems offered by CMB are specially designed for packaging products of different sizes on the same line, continuously and with high performance. For this reason, they are considered to be one of the fastest continuous packaging systems on the market. 
Its operation is simple: it detects the dimensions of the different products and selects the appropriate film reel in each case, thus avoiding excessive film surplus and without downtime while the film width is being changed. This system achieves considerable savings in consumable material. On the other hand, thanks to its design, it allows for future extensions and adaptations to larger packaging lines.
ERS: maximum visualization and output at all times and exceptional packaged product finish
The ERS is an automatic heat shrink packaging system with bottom overlap. It is a more complex system, consisting of an infeed table, a sealing head and a set of metal paddles with the film, an intermediate table and a shrink tunnel.
The overlap shrink wrapper is a machine designed to obtain the best possible product visualization and finish, increasing its added value. On the other hand, it is ideal for high production rates, ergonomic, robust, reliable and does not require extensive maintenance.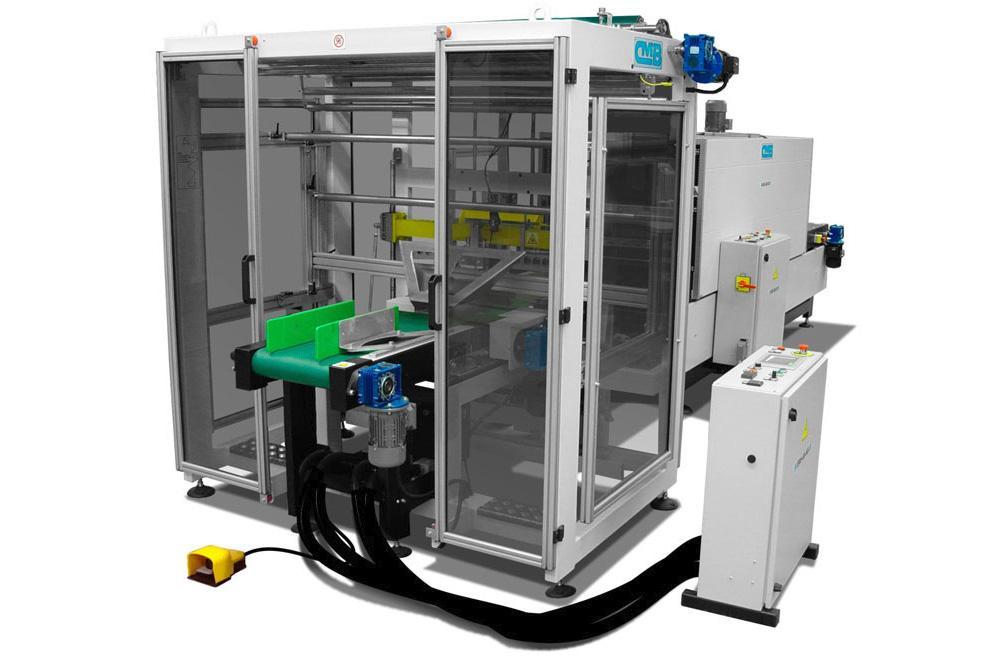 Do you need advice on how to find the right film packaging machine for your requirements?
If you require advice or more information about film packaging machines, simply contact us so that we can study your case and your packaging requires in detail. We will then be able to offer you the best possible solution for your company.
You can contact us by calling 93 636 14 16, by e-mailing us to [email protected], or by filling in our contact form. Our team will be happy to advise you.