Our automatic wrapping machine is designed to pack products of different sizes in one continuous production line and without any stoppages
Our COMBO system is a shrink wrap packaging machine which respects and adheres to the strictest energy efficiency criteria. It guarantees high output rates because it can pack products of different sizes in the same packaging line, without any stoppages and by adjusting the amount of film used on each product to reduce waste.
In essence, the system can detect the dimensions of the package to be packed, select the reel of film wrap and the amount of film needed in each case.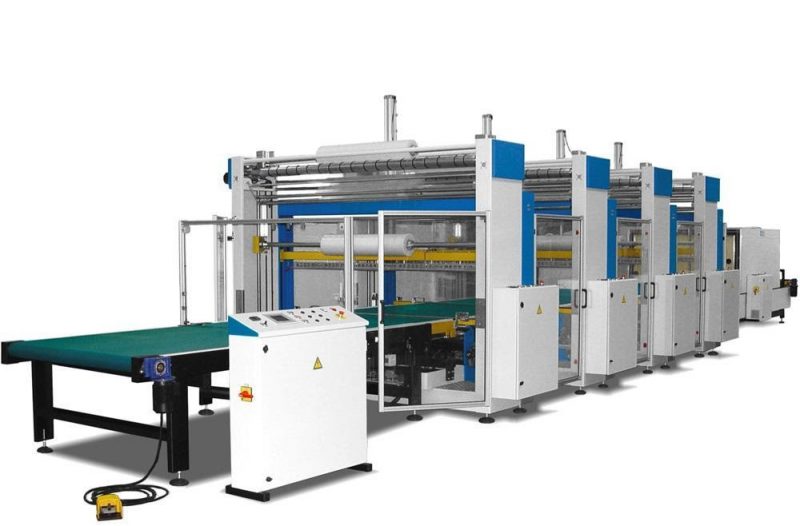 CMB has vast experience as a manufacturer of industrial packaging machinery, and we can vouch that the COMBO system is one of our most comprehensive and advanced productions to date. By investing in an automatic wrapping machine, we guarantee that you start receiving returns and savings from the minute you start packaging your first product.
Advantages of having COMBO machinery in your packaging plant
Bear in mind that choosing the best automatic wrapping machine for your product is essential to ensure that there is no damage done to it during the delivery process, and to ensure that it maintains its quality from the moment it is packaged until it is handed over to your customer. Our COMBO equipment cuts costs and energy to ensure that the packaging process at your plant is more economical and efficient. We have designed and engineered our cutting-edge machinery to automate and digitise the whole process. Packaging has never been easier nor more efficient.
Our COMBO automatic wrapping machine is a guarantee and a safe investment for any company that needs to pack industrial products.
What benefits will you get from the COMBO system?
There are no stoppages during the entire packaging process which results in a considerable increase in output rates
It detects and adjusts the right quantity of consumables for each product which results in significant savings in both material and energy. It is a tremendously efficient machine.
It is designed in modules which means it can be added to and extended over time very easily.
Take a look at more heat shrink wrapping machines in our range
We do have plenty more to offer you to help you handle packaging in your company.  You may be interested in the ERB and ERS models which are also automatic wrapping machines that work with heat.
ERB is a shrink wrap packaging machine that is made up of two modules; a sealing head and a shrink tunnel. It has been designed to optimize production specifically for packaging processes that require a high-quality finish, such as; customised packaging, packaging with different designs, working with a range of colours or even displaying the company logo.
The ERS model is another shrink wrap packing machine with a lower overlapping sealing system. It is made up of different parts: an infeed conveyor, a sealing head, set of metal blades to cut the film, an internal conveyor work table and a shrink tunnel.
This models' greatest strength is its high-quality finish and high performance at a very reasonable price. It is remarkably efficient and will help you save time and money. It reduces the amount of consumables needed and has a shorter production time. And last but not least, the quality of the presentation of the packaged product is impeccable.
If you would like to know more about our automatic wrapping machines, please contact us
Unless you know all of the ins and outs and technical details of how a machine works, investing in an automatic wrapping machine can give rise to queries and doubts. CMB is an experienced and trusted industrial packaging machine manufacturer, and we are happy to share our expertise with you. Ask us any questions you may have without any commercial obligation whatsoever. So, please do not hesitate to contact us.
You can do so by calling (+34) 93 636 14 16 or sending an email to [email protected].
If you prefer, you can also fill out the form that you will find on this website.