Achieve an excellent finish with CMB's heated packaging systems.
The furniture and wood industry very often looks for a packaging system that allows them to protect their products effectively without preventing them from being seen in detail. This means that they need a resistant packaging system that completely isolates the product from possible external agents that could damage it, and at the same time allows them to see what the product inside is like.
When a client brings us this type of needs, CMB is clear: they need to implement a packaging system with heat. If in these circumstances a cold packaging system were used, the result would not be entirely satisfactory, since we recommend this type of packaging to protect during transport, provided that it is temporary. The packaging could lose properties over time and this means that it does not adequately protect the product. In addition, the cold packaging machinery that we design and manufacture at CMB is designed to pack products of more or less geometric shapes. On the other hand, heat packaging systems offer the possibility of adapting to all kinds of shapes.
Is a heated packaging system environmentally friendly?
It is true that heated packaging systems use more energy than cold packaging systems. However, CMB's machinery is fully prepared to be very efficient and not waste any energy at all. The formula we follow is: maximum efficiency and production capacity as long as the machine is running.
Not only that, but all our machines that are based on a heated packaging system use 100% recyclable polyethylene shrink film. That means that all the packaging material we use can be recycled and used again. At CMB we offer you heat shrink packaging machines that can be adapted to different needs with the aim of wasting as little film as possible. With a focus on generating as little waste as possible and with this waste being 100% recyclable, we at CMB are doing our part to reduce the carbon footprint and environmental impact of our packaging solutions.
Choose a heated packaging system according to your needs
At CMB we have developed three different heat packaging systems that can offer solutions to different needs. It is not the same a company that needs a high speed packaging of products of the same size than a company that needs a machine that allows them to pack products of different sizes in a completely efficient way. A company that needs to pack medium-sized products such as bedside tables is not the same as a company that needs to be able to pack as many doors as possible lengthwise every hour.
The following are the distinguishing features of each of our heated packaging machine series: the COMBO, the ERB and the ERS.
Packaging system useful for products of different dimensions: COMBO
This machine is ideal for those companies that need a large production and have to pack packages or products of different sizes and want to do it without having to change the shrink film reel depending on the size of the package to be packed. The COMBO is a CMB machine designed to be able to do just that: pack products of different sizes thanks to its ability to detect the size of the package and direct it to the part of the conveyor belt where the film reel of the most suitable size is located.
With this machine, not only is it possible to pack packages of different sizes quickly, effectively and efficiently, but the amount of film waste is reduced to a minimum.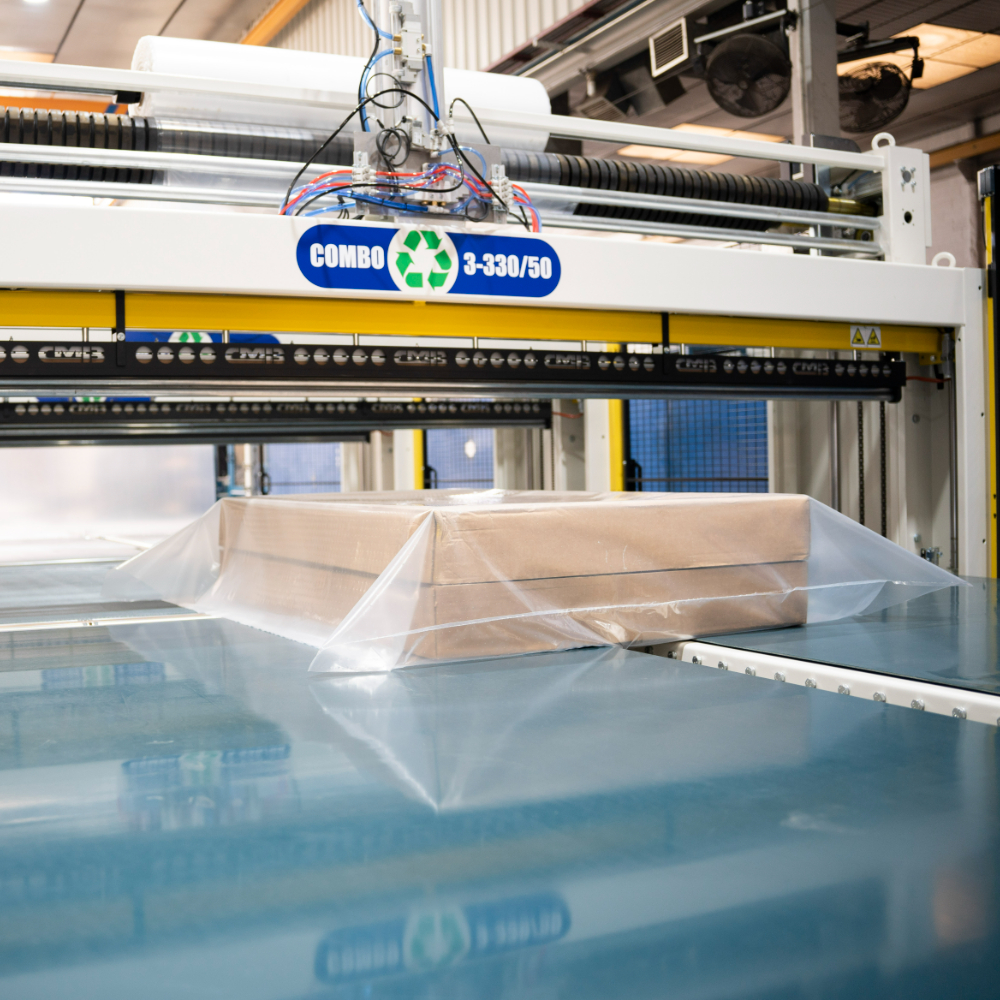 Maximum visualization and production packaging system: ERS
The ERS or overlap shrink wrapper is characterized by being a packaging system that offers high quality finishes that allow to see with all kinds of details and precision the product they contain. In this case, the product to be packaged is placed on the conveyor belt and passes through a sheet of semi-tube film with the initial end already welded. It then passes through the shrink tunnel and the film adheres to the surface of the product and, finally, the other end is sealed.
It is a packaging system widely used in the molding, parquet, slats and wood profiles industry.
High-quality finished packaging system: ERB
The Barberán Shrink Wrapper (ERB) was the first of the heat wrapping machines manufactured by CMB. It is composed of two modules designed to allow a high production at a low final cost without losing quality. Unlike the ERS, the ERB can protect a wide variety of products, as it can be adapted to many different shapes. In addition to the wood, furniture, enclosures and aluminum industries, it is also used in the textile and household industries to protect mattresses and fabrics, in the automotive industry for automotive accessories, and in many other sectors where products need to be packaged quickly, efficiently and safely.
During its passage through the ERB, the package is closed at the sides as well as at the front and rear ends. In this way, it is completely isolated from external agents that could cause damage of any kind.
Rely on CMB to choose the most suitable packaging system for your needs.
It is very likely that after this information you will find it difficult to choose one of our heat packaging machines for medium and large sized products. However, we invite you to contact us, from CMB we will put all our experience and knowledge at your disposal. Trust in one of the leading companies in the wood packaging sector with more than 35 years of experience.